ASUS today introduced its newest laptops, with the latest Zenbook and Vivobook lineups during the Thincredible product launch event. Zenbook S 13 OLED (UX5304) debuted as the world's slimmest OLED ultraportable laptop — redefining what an ultraportable laptop can be. Equipped with the stunning new ASUS Lumina OLED displays, ASUS IceCool technology, and extremely durable and unique designs, the latest Zenbook and Vivobook lineups empower users with their outstanding sustainable performance and purposeful innovations.
KEY POINTS
More freedom, less gravity: World's slimmest OLED ultraportable laptop Zenbook S 13 OLED, with an incredible 1 cm profile and weighing just 1 kg
Legendary collaboration: ASUS and A Bathing Ape® announce ASUS Vivobook S 15 OLED BAPE® Edition with multiple bundled accessories
Powered by Intel® Evo™: Get the best overall laptop experience with Intel Evo; ASUS partners with Intel to create laptops that provide supreme performance
More care, less impact: Recycled materials and responsible manufacturing ensure minimum impact on the environment
Zenbook S 13 OLED is only 1 cm thin and weighs just 1 kg. This Intel® Evo™-certified laptop provides exceptional performance, battery life, and sustainability combined with an ASUS Lumina OLED display in an ultracompact chassis. Offering an all-day 63 Wh battery and full I/O ports, it's the perfect companion for those who need maximum portability to match their lifestyle.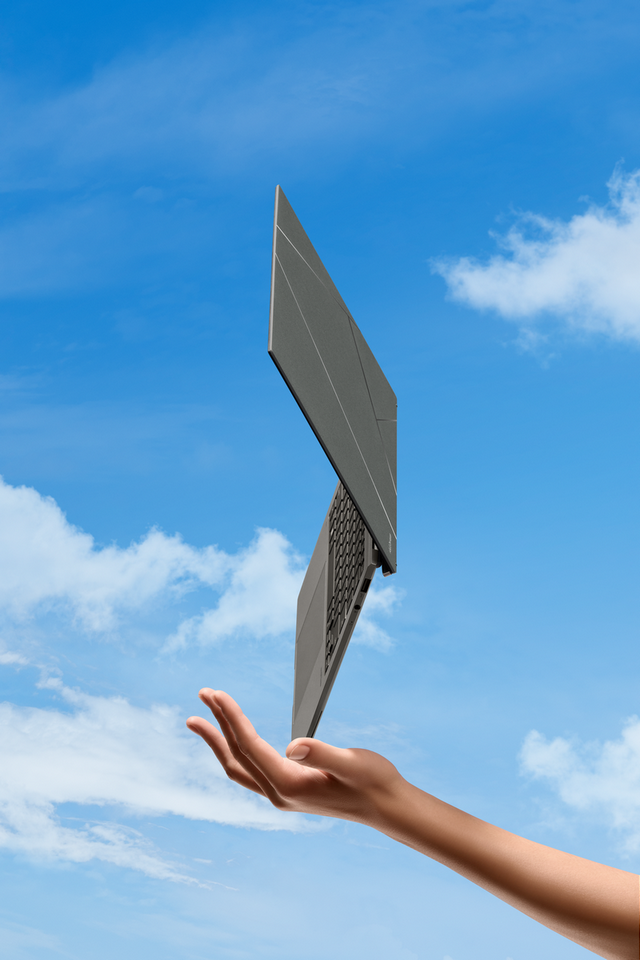 A thrilling collaboration between ASUS and A Bathing Ape ® (BAPE®), the famous streetwear brand, was also announced at the event. The result of this collaboration, the ASUS Vivobook S 15 OLED BAPE® Edition, is the first time ever that BAPE has teamed up to launch a laptop and comes just in time for the brand's 30th anniversary. Celebrating joyful, creative, and authentic aesthetics, and combining the energetic and vibrant styles that both BAPE and Vivobook share, this laptop comes with a trendy colorway as well as featuring a bundle of accessories including a carry bag, mouse, figurines, and much more. This collaboration is sure to Wow the World with its unique and stylish designs that are perfect for users who are in pursuit of authenticity and creativity.
Introducing stunning ASUS Lumina OLED displays
During the event, ASUS announced ASUS Lumina OLED, the new name for our OLED displays that standardizes highly-crafted solutions built around the best OLED experience. The name also highlights the unique advantages of ASUS OLED displays, which provide a superior visual experience that goes beyond the standard of traditional OLED displays. With more accurate, more adaptive, and more reliable features, Zenbook S 13 OLED is the perfect example of the excellence that ASUS Lumina OLED displays have to offer.
Beyond the traditional OLED display benefits, such as higher contrast range and wider color range, ASUS Lumina OLED displays are Pantone® Validated, VESA DisplayHDR™ True Black-certified and factory-calibrated to Delta E < 1 to deliver more color accuracy. Additionally, ASUS Splendid color-gamut management, OLED Power Saving, and ASUS Tru2Life technology help deliver better and more adaptive tools. Furthermore, their TÜV Rheinland low blue-light certification, ASUS OLED Care burn-in prevention, and US military-grade durability makes them more reliable and helps to maintain quality and comfort over time. ASUS also provides free OLED screen exchange for any burn-in issues during the warranty period.
Zenbook S 13 OLED (UX5304):
Fully embodying the Incredible Comes From Within spirit, Zenbook S 13 OLED (UX5304) is the world's slimmest 13-inch OLED laptop, and also the most eco-friendly Zenbook ever. With a world-beating super-thin 1 cm profile and a super-light 1 kg chassis, this sophisticated Zenbook is the epitome of ultraportable design, finished in brand-new Basalt Gray or classic Ponder Blue. It's also designed with the environment firmly in mind, using recycled metals and plastics in its construction, and utilizing sustainable FSC™-certified packaging.
The Basalt Gray model features the exclusive and revolutionary ASUS Plasma Ceramic Aluminum material that transforms the aluminum lid using an environmentally low-impact bath-based method. This process increases wear resistance, corrosion protection, thermal management, hardness, and lifespan, while also adding a natural look and feel that resonates with the Zen-inspired roots of the Zenbook family.
This Evo-certified Zenbook harnesses the power of up to a 13th Gen Intel Core i7 processor with 32 GB of LPDDR5 RAM and a 1 TB PCIe® 4.0 x4 SSD. There is also a full set of I/O ports for on-the-go connections, and a long-lasting 63 Wh battery. For immersive true-to-life visuals, Zenbook S 13 OLED has a gorgeous 16:10 2.8K (2880 x 1800) ASUS Lumina OLED display that's Dolby Vision-certified, along with Pantone® Validated color rendering and VESA DisplayHDR™ True Black 500 certification.
Vibrant Vivobook innovations
Vivobook S 15 OLED BAPE® Edition (K5504):
Vivobook S 15 OLED BAPE® Edition is a special edition of the Vivobook S 15 OLED and the first ever BAPE laptop bundle. ASUS aims to deliver the most in-depth collaboration between tech and streetwear ever. BAPE is a legendary brand in the field of streetwear, its bright and flashy aesthetic fits perfectly with the energetic and vibrant Vivobook style. This year also marks the 30th anniversary of BAPE, perfect timing for the highly anticipated BAPE limited edition that will be released later in 2023.
But this is not just a standalone laptop: it will come with a variety of accessories such as mouse, carry bag, and Baby Milo® figurines. Featuring an exclusive BAPE-designed camo pattern on the whole bundle, this new collaboration is sure to Wow the World. To keep up to date on the latest news about the Vivobook S 15 OLED BAPE® Edition and to get a chance to win special rewards, sign up now at: https://asus.click/vivobookbape_pr.
More care, less impact
ASUS laptops feature purposeful innovations designed to enhance the user experience while also reducing their environmental impact, creating a more sustainable future for everyone. In 2023, over 90% of ASUS consumer laptops will meet EPEAT and ENERGY STAR® 8.0 standards, showcasing the brand's commitment to delivering more on sustainability.
Sustainable in every way, the new Zenbook S 13 OLED further demonstrates the ASUS commitment to creating products that minimize environmental impact. It uses recycled materials throughout its design, including post-consumer recycled (PCR) plastics, post-industrial recycled (PIR) aluminum, and PIR magnesium alloy. With its PIR metal chassis reducing its carbon footprint by more than 50% and well-designed packaging, which can be transformed into a laptop stand after unpacking, Zenbook S 13 OLED truly lives up to its promise to show More care, less impact.